Tuesday, April 9th, 2013
Hey All,
As our gliders continue to push onwards, both has slowed down a little as we encounter some less than favorable currents.
From the start of this month through this week, Challenger has run into an eddy that developed as we approached leaving us little time to react, resulting in us flying our glider up the eastern side of a clockwise rotating eddy: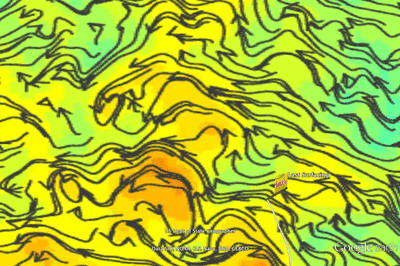 In the animation above, we can see how as the glider approached the area in question as there appeared to be currents that flowed up to the north west.  Then as we got closer to the area, the currents shifted and by the time we were about even with the center of the small eddy, the currents then accurately showed the rotation that was plaguing our progress.
Although this causes some frustation as the pilot when we lost some of our speed, instances such as this do leave us with a sense of accomplishment as we can see the data from our gliders being reflected in the models that our data is being plugged in to.
We can also see the fight with this eddy reflected in the velocity data above.  As we approached the eddy, we can see how our velocity continued to plummet until just recently as we rounded the edge of the eddy and now we seem to be increasing ever so slightly.  Hopefully we will be able to sustain this increase in the coming days and build up some more speed.
Over the next day, we will also be keeping an eye on the bathymetry around both Challenger and Silbo, asa they both are in the midst of obstacles:
Challenger is crossing the last of the sea mounts that are associated with the chain we have crossed a number of times now as we put distance between ourselves and the African Coast.
Silbo on the other hand is about to cross the Mid Atlantic Ridge for the second time, the firs being back in June of 2011 when we deployed out of Iceland along the Mid Atlantic Ridge.
Both of these regions reach up less than 1000m in some regions but we have taken the necessary precautions to make sure we do not run aground.
Force Wind Sea & Honor